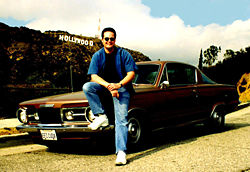 Erik C. Andersen

With his Dad's 1965 Plymouth Baracuda
I remember seeing many movies at the drive-in theater when I was a kid. But it was 'Star Wars' that made me think, "I don't know how they made that, but that's what I want to do: create a world that only exists on film." I was 11 years old at the time.
In 1985 I began pursuing my dream by majoring in film at Los Angeles Valley College. I quickly noticed that most of the other students liked directing their own projects but didn't care much about cutting them. To me, editing the film was every bit as important as directing it, so I volunteered to cut everyone else's projects.
I got my first job in the industry in 1987 as a sales representative at Christy's Editorial Film Supply in Burbank. I also continued to work on student projects and very low-budget films to gain experience as a film assistant. Then, my big break came when I was hired as the film conforming assistant on 'Madonna: Truth or Dare'.
Recognizing that computer-based editing systems would be used in the cutting rooms of the future, I made it a point to learn as much as possible about the new nonlinear machines. In the early '90s my research led me to recommend that Christy's introduce the Lightworks as a feature-film cutting tool. I educated myself on the Lightworks and became proficient enough to train both assistants and editors on the system. I have since also learned the Avid Film Composer. Even though I am most often hired as a computer assistant, I like to keep a film bench in my room as well so that I can help the other assistants when needed. I also continue to keep abreast of new technologies that will assist us in the cutting room.
I feel fortunate to have made enough contacts to work with some great editors -including Paul Hirsch, Peter Honess, Larry Bock, Bob Brown and John Wright - as an assistant on union films, including 'Mighty Joe Young', 'Mercury Rising', 'Speed 2', 'The Ghost and the Darkness', 'Broken Arrow', 'Desperado' and 'Four Rooms'. Whether it's helping director Larry Clark add some missing scenes for the director's cut of 'Another Day in Paradise', or cutting temp sound effects for Jan De Bont on 'Speed 2', what I like most about my job is working with unique and creative directors to help them achieve their vision.
When I was in school, I had a film- history professor named Joe Daccurso. I'll never forget what he would always tell his students: "If you can't make it through one of my classes, then you will never make it in the film industry." I took what he said to heart, and continue to work as hard at my job as I did in his classes. I think it's paid off, so far.